New: AudioPeek v1.0 for Windows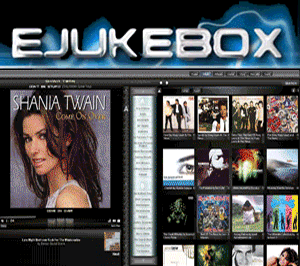 EJukebox v5.83 for Windows
Ultimate Solution for Your Music/Video Collection
Experience your digital music / video collection with related internet info, video streams, cover art, lyrics and more. All in a fast searchable database with a smart customizable interface. You can browse, list, search. edit, drag, drop, queue and play your videos and albums in track order. EJukebox automatically finds cover art for your songs and can import your CD collection. It keeps popularity stats on your music preferences and allows you to set criteria for what to play when the playlist is empty. It gives you full artist and album lists with art. It features an open file skin system that lets you customize everything from the button colors, css styles on the lists, to all the image files that make up the interface. Control EJukebox's playback and search your media database from any web browser. Query and Browse the web for related info using the integrated popup free browser. Lock the interface full screen and set options for public usage and so much more!
New Animated Skin for Vista/Win7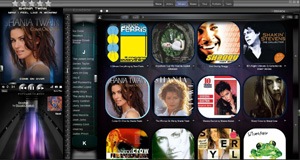 More EJukebox Skins


The EJukebox 2WEB Feature ->
Your own personal music cloud.
Connect your EJukebox windows computer to your stereo/hdtv and control using the 2Web browser interface with your tablet, phone or laptop over WiFi. Optionally stream music and transfer files to any device connected to the net. MORE INFO
EJukebox 2WebSite:
Show current song title, artist and album w/cover on your web site via FTP. Easily Customize layout and album image size. DEMO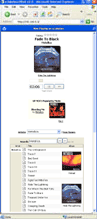 v5.83 ... August 9th, 2020
-New option for Youtube Api Key on Other tab .

v5.82 ... May 20th 2016
-fixes EJ crash on Win10 when playing a youtube video after playing a music file.
-improves youtube error handling and start speed for all.
Upgrade

v5.80 ... May 25th 2015
-adds A-Z bar sound meter animation option
-fixes NetRelated
-adds support for HTML5 web video under Vista and newer
-adds Set Web Steaming mode option to set HTML5 on or off
-now allows Playback Speed changes while streaming in HTML5

v5.75 ... October 3rd
-disables new sound meter on EJukebox 2Web when canvas not supported or EJ vu meter not running
-fixes Download MP4 and quicktime playback method
-makes clicking the stop button on 2web show the play button instead of pause
-various optimizations and fixes

v5.74 ... September 20th
-New Sliders, Buttons and VU Meter on EJukebox2WEB
-added support for .cdg Karaoke files
-Various Fixes and Tweaks

v5.72 ... June 5th
-added Download Mp4 ability to the Viz button menu when playing internet video
-added Find Internet Video to the Viz button menu when not playing internet video
-changed Google button on virtual keyboard to Internet video search
-A5 Vinyl is now the first time default skin instead of A5 NeoBlues
-Various Fixes and Tweaks



VIEW ALL EJukebox UPDATES
Experience Your Music/Video Collection with Automatic Album Cover Art, Randomized AutoPlay Modes, Extensive Song - Artist - and Album Listings, 3D Album Carousel, Drag & Drop Playlist, User Skins, Fast CD Ripper to fully tagged MP3s, Winamp Plug-ins and Shoutcast Radio Support, Kiosk Mode for TouchScreen Usage and Parties, 2WEB Browser Interface for remote controlling your music over a LAN or the Internet. Plus so much more!
EJukebox features an interactive interface that allows you to graphically browse your music collection along with its album art. You can click or drag and drop on any text or album cover images you see. Easily import music from your physical CD collection by using the built-in CD Ripper. EJukebox can utilize Windows Media Player internally or the popular free program Winamp to provide support for the playback of numerous media file formats (MP3, OGG, WMA, APE, MPC and others) as well as hundreds of freely available real-time audio and visualization plugins.
· EJukebox keeps track of how often each song is intentionally played so you can switch to Popularity Mode to have it automatically play your favorite songs when there are no songs in the playlist. You can also filter this playback more using the optional 5 star rating system. In addition you can have e-Jukebox autoplay songs from playlists files or bookmarks that you have created. EJukebox's Home View gives you a Billboard style listing of your Top 10 most popular / picked artists, songs, and albums.
· While browsing your music collection, EJukebox allows you to quickly view all of your albums from one interactive scrollable list. It also includes; fast searching, a powerfull ID3 Tag Editor, custom Bookmarking, Drag and Drop Albums to the Playlist, Touch screen mode, Kiosk Mode (Great for Partys and other Public Events) and the optional 2Web Feature for controlling EJukebox remotely. In addition, you can surf the internet inside e-Jukebox and get all the info you need about an artist, album or song, including Lyrics, with a right click. Plus, much more…





e-Jukebox is everything i was looking for in a jukebox for my very large mp3 collection.with countless features and a great interface it allows one to turn a pc into a party jukebox complete with cd album cover art and lyrics. Find bios and info about the currently playing artist have it play only the popular songs or play based on playlists. Simply a great idea executed well. - Timothy Huver








Audiosoft's e-Jukebox is the most innovative piece of software I have had the pleasure of using. A slick front end, it delivers immediate access to your entire music collection. Playing entire albums with great ease or single tracks are both painless. EJukebox even tracks popularity of the tracks you are playing, allowing you to listen to your favourite music without having to program a play list! None of the other ?jukebox? applications come close to delivering the functionality and appeal of EJukebox! - John Boshears




Very complete album cover organizer/mp3 maintainence application This is definitely a fully featured application; complete with ID3 tagging, cd ripping, statistics, album cover display, file organization and search features, etc. The interface is clean and nicely layed out as well; making this one of the better, more functional 'all-in-one' mp3 apps out there. - Winamp.com Staff Review